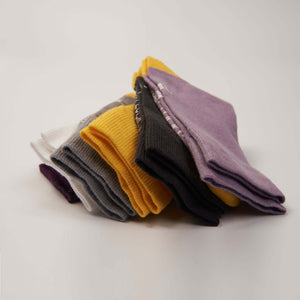 STUFF YOUR STOCKINGS WITH SOCKS
Made from Plastic Bottles
CHRISTMAS IS COMING
I am shipping out ALL socks with FREE gift wrapping
& the science and story behind Teddy Locksl!
SAVING THE PLANET
ONE SOCK AT A TIME
It took me 404 days of research & development to bring you the world's best eco-friendly socks.
Socks that don't get holes, don't fall down & always feel incredible.
You can read more about why I left my dream job & how I developed Teddy Locks below.
RATED EXCELLENT
Rated 4.9 on the product pages and 4.6 on Trustpilot!
Join more than 7,366 happy customers.
TREADING LIGHTLY
I am on a mission to stamp out single-use plastic
& have so far recycled over 28,000 bottles into cashmere-soft socks!
Learn more about why Teddy Locks is the world's most sustainable sock company.
SMALL BIZ GIFT GUIDE
I've teamed up with 27 other wonderful small businesses in a 2023 Festive Gift Guide.
Take a Look.
It means the world when you shop small!
Thank you!